Overview, Mission, and Purpose
---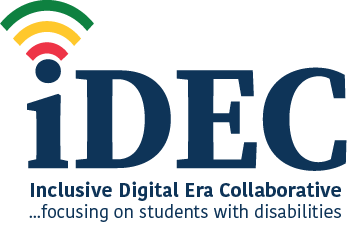 iDEC Overview
In 2011, the United States Department of Education's Office of Special Education Services (OSEP) recognized a significant shift in the academic environments available to students and in funded the Center on Online Learning and Students with Disabilities (COLSD), a partnership among the University of Kansas Center for Applied Special Technology (CAST), and the National Association of State Directors of Special Education (NASDSE). Over the course of the COLSD's research activities, an emerging finding became increasingly apparent: the field is only in the embryonic stages of understanding what it means to be effective educational practitioners in the digital era. Further, researchers found that the provision of special education services in online classrooms across the U.S. often showed little, if any, foundation in educational policy or researched-based practice.
As the 5-year grant funding the COLSD came to a close, the need for further research, dissemination, and technical assistance in this area remained. In response, staff at NASDSE and the University of Kansas Center for Research on Learning formed the Inclusive Digital Era Collaborative Focusing on Students with Disabilities (iDEC). iDEC staff are a professional workgroup committed to improving the learning and achievement of students with disabilities in online settings.
Mission
Established in 2017, iDEC's mission is to conduct educational research and provide technical assistance to State Education Agencies (SEAs), Local Educational Agencies (LEAs), and interested stakeholders with the following emphases:
Provide guidance and support through research activities that expand the knowledge base of online learning and students with disabilities
Review and develop policy for state and local entities to ensure alignment with the IDEA
Generate and supply professional development supporting high fidelity implementation of research-based practices
Expand the network of national stakeholders in order to promote knowledge acquisition, integration, and dissemination
Purpose
iDEC promotes inclusive education in all educational environments including online learning settings. As noted below, Congress in Section 1400(c)(1), set four overarching national policy goals: equal opportunity, full participation, independent living, and economic self-sufficiency. We can look at IDEA and special education as the means to support students in their brave efforts to achieve these goals. The iDEC workgroup believes that intent of IDEA is to ensure that that all K-12 education institutions will prepare students with disabilities to participate fully in communities of their own choice, live as independently as they can, and be as able to work (Turnbull, Huerta, Stowe, 2004).
"Disability is a natural part of the human experience and in no way diminishes the right of individuals to participate in or contribute to society. Improving educational results for children with disabilities is an essential element of our national policy of ensuring equality of opportunity, full participation, independent living, and economic self- sufficiency for individuals with disabilities." Section 1400(c)(1).